Display Your Full Potential With Newhaven Display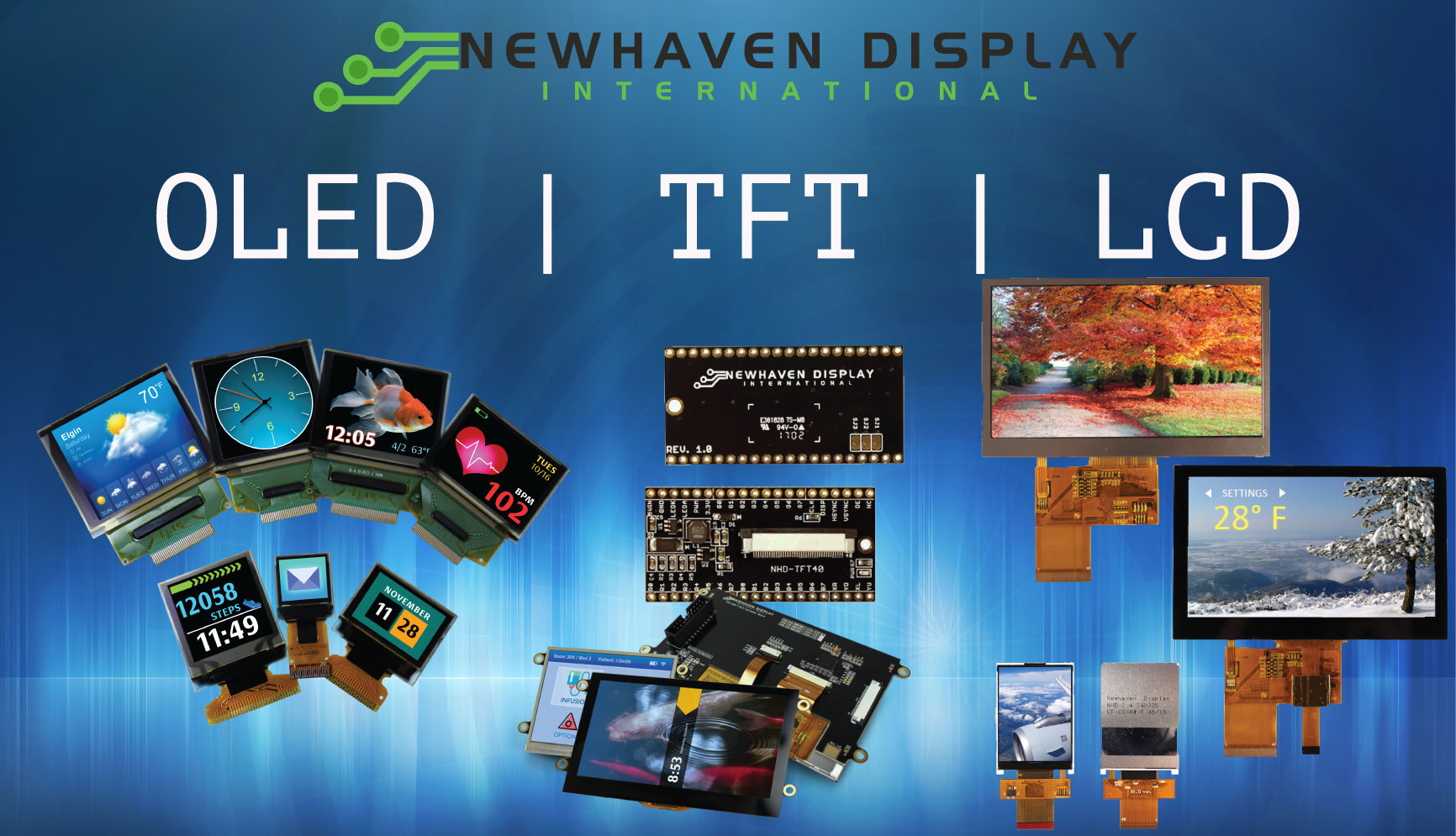 Abacus Technologies is authorized for Newhaven Graphic LCDs, OLEDs and TFTs
OLEDs
Newhaven Display's Full Color OLED Glass products are offered as 7-part numbers.
NHD-0.6-6464G | NHD-0.95-9664G| NHD-1.1-9696G | NHD-1.27-12896G | NHD-1.45-160128G | NHD-1.5-128128G | NHD-1.69-160128G
Like Newhaven Display's Character OLED glass display, these new Full Color OLED Glass displays are just the glass. They make a great option for customers that want the flexibility of designing their own board or having one created for them.
KEY FEATURES:
Provide users with an array of color options
Amazing high contrast rate
Fast response time: 10µsec
Amazing 160 degree viewing angles
Low power consumption
Wide temperature ranges
Serial interface, some available with Parallel or RGB interface
Built-in sleep mode and controller
TFTs
We have Newhaven Display TFTs in stock, including the new EVE2 IC, TFT controller.
All 20 TFT part numbers come equipped with FTDI EVE2 Graphic Engine
Fully integrated TFT Modules with Displays,Touch, and Audio control
Possibilities of full color Standard, Premium,and Sunlight-Readable display variants
Sizes 3.5", 4.3", 5.0" & 7.0
Options for resistive or capacitive touchpanels
Operating Temperature (-20C to +70C)
TFT Display Modules Fully Integrated withTouch and Audio Control
SPI Interface for Communication
Two Industry-Standard 20-pin ConnectionOptions on Every Board; FFC & IDC
1MB of Built-in Graphics Memory (RAM) (noexternal frame buffer required)
On-board LED Backlight Driver that Will NeverCompromise Brightness
Pulse Width Modulation Backlight Control
Supports Multiple Image Formats, Widgets,Video and Audio Playback
Includes Audio Synthetization Capability
Built-in Scalable Fonts
Support for Up to 255 Touch Tags for TrackingTouch Movement
4 Mounting Holes for Standard M3 ScrewsIntegrated with the Board
Portrait and Landscape Orientations Supported
Open Source
Engineered and Assembled in Elgin, IL USA
RoHS Compliant


We aldo carry the new TFT modules in 5" and 7" sizes. They come ready to connect with any boards or computer capable of HDMI output with a standard HDMI connector cable. Check out the list of features below:
HDMI
USB-HID driver recognition
On-board Texas Instruments hardware
Capacitive and Resistive touch options
Compatible with Windows/Linux
Four 3.5mm mounting holes
Standard, Premium, and Sunlight Readable TFTs
5.0" and 7.0" diagonal TFT sizes
PWM backlight control
Open source hardware
10.1" HDMI TFT Module
HDMI interface displays are now bigger than ever before at Newhaven display. Their HDMI TFT product line is expanding to include two new 10.1" size modules. These new products are paired with their custom-designed PCB, a durable steel mounting bracket, and Texas Instruments Audio Amplifier for audio support.
High definition multimedia interface
Capacitive touch option
USB-HID touch panel driver recognition
Durable steel mounting bracket
Compatible with Windows/Linux
On-board Texas Instruments amplifier
Large 10.1" TFT display
1024x600 pixel resolution
Newhaven Display's 32 Mountable TFT Displays are paired with a tough steel bracket and can be found in a wide array of sizes. The steel bracket makes mounting these displays both convenient and extra-secure. You will find Mountable TFT Displays in 3.5", 4.3", 5.0", 7.0", and even 10.1"sizes. Newhaven Display has designed these Mountable TFTs for Rack-Unit height making them a perfect fit for typical server racks and other industry standard enclosures. The steel brackets also have M3 PEM standoffs, or "feet", to allow room for the installation of an accessory PCB. With no specialty software driver required and the brackets offset mounting tabs, integrating a display with any enclosure has never been so easy and so secure.
LCDs
Graphic LCDs are available in industry standard sizes and interfaces. Newhaven is one of the most versatile LCD lines in the world and can be found in the Audio, Transportation and Medical industries.
STN or FSTN display types
Positive or negative display modes
Monochrome graphics
High brightness backlight
Custom touch panels available
Wide operating temperature
RoHS compliant